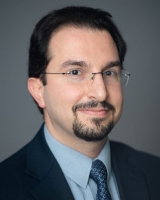 WVOVPMI Chapter Member Meeting
July 22, 2021
(Register at the bottom of this screen)

PMI Talent Triangle: Technical, Strategic & Business Management
PDU: 1
0.5 PDUs Strategic and Business Management
0.5 PDUs Technical Skills

Format: WebEx Meeting
Date & Time: Thursday, July 22, at 6 PM
Presentation:
If a project is a project, why are construction and IT projects so different?
Understanding the factors that differentiate project types can help prepare a project manager for success, even in unfamiliar territory. To illustrate this concept, this presentation will examine two project types (construction and IT projects) to identify some significant differences and a few similarities and how they result in different project management challenges. The speaker will discuss tips and techniques to manage these challenges.
Our Guest Speaker:
Mohammad Alzarrad is an Assistant Professor in the Department of Civil Engineering at Marshall University. He graduated with dual bachelor's degrees in Civil Engineering and Business Administration from the University of South Alabama. He received his M.Sc. and Ph.D. in Construction Engineering and Management from The University of Alabama.
Before assuming his current position, he was an Assistant Professor in the Department of Civil Engineering and Construction at Bradley University. ​Prior to joining academia, Mohammad was a Virtual Design & Construction (VDC) manager at an engineering design firm in Chicago, where he managed multi-million projects (i.e., Wrigley Field restoration and expansion project).
Mohammad is a PMP©, and he teaches and practices project management daily.
****** One PDU is available for this session. ******
IMPORTANT NOTE: You should receive a confirmation email at the address you specify when you register. This email includes Webex access info, which you must have to attend. IF YOU DO NOT RECEIVE THE CONFIRMATION EMAIL WITHIN 10-15 MINUTES OF REGISTERING, CONTACT US AT This email address is being protected from spambots. You need JavaScript enabled to view it. IMMEDIATELY!
We do not want to exclude anyone from the event due to email communication failures.